Modernist secret and remains of a legacy hidden atop a Christchurch office block
It may be a rundown and empty office building in central Christchurch, but it's actually a sole survivor.
Look closer and the building is revealed as a generous, eccentric and surprising modernist treasure that tells a story about Christchurch's history and one of its most celebrated architects.
The slats beneath each window are made of bronze and hidden atop the office block is a secret, floating modernist pavilion with epic views across the city and the plains.
Joseph Johnson/Stuff
James Stringer of Box 112 enjoying the view from Peter Beaven's former office on Manchester St.
The 1961 building is a miraculous survivor that somehow escaped the wave of demolition that swept through the city after the 2011 earthquakes. It is one of the last survivors of a distinctive form of local mid-century modernism known as the Christchurch School.
It is also one of the last buildings left by one of the leading exponents of that style - colourful Christchurch architect Peter Beaven.
After the earthquakes, Beaven left his hometown and lived just long enough to see his muse, the city of Christchurch, get torn down. He also saw many of his Christchurch buildings demolished. The Lyttelton tunnel building, the Holiday Inn, the Manchester Unity building - a legacy and a life's work turned to dust.
ALDEN WILLIAMS/STUFF
Bar owner Tom Newfield plans to open a rooftop bar in the Manchester St building.
But his building on Manchester St remains and a developer has restoration plans. The building will be turned into a boutique hotel with a rooftop bar where people will be able to enjoy those epic views.
The restoration will protect Beaven's slender and fragile legacy in his hometown and preserve a moment in Christchurch history when the city was open to new modernist ideas and had the talent to seize that moment.
Supplied
Peter Beaven in December 1960, just before the Manchester St building was complete.
The Canterbury Terminating Building Society at 159 Manchester St was Peter Beaven's first major project in Christchurch and the first seven-storey commercial building built in the city centre after the war.
At the time of the commission in 1957, Beaven was in his early 30s and had mainly worked on houses at that point. Design of the building was begun by Benjamin Ager, architect of St Elmos Courts building on Hereford St, which was built in 1930 and demolished in March 2011.
But when Ager fell ill, Beaven took over and made the design his own. Ager's design was just five storeys with a brick facade punctuated with small windows. Beaven stripped the design back to the concrete frame and added tall windows with distinctive bronze decorative elements beneath each one. The concrete frame was painted olive green.
He also added two more floors. One had a narrow balcony around the outside sheltered beneath a floating sandstone yellow cornice slab that framed a fantastic view across the city and the Port Hills.
Mannering & Donaldson
159 Manchester Street in 1963 viewed from Bedford Row.
And above that was a spectacular penthouse with walls of thin metal framed glass and louvres providing shade. It was like a secret modernist pavilion tucked away on the rooftop with views spanning from New Brighton in the east to the Alps in the west.
Stacy Squires
A view of the building looking south from Manchester St.
Beaven had to get special permission for the cornice to overhang the street. He wanted it to be an echo of the Victorian buildings around it with their neo-classical rooftops.
Beaven wrote: "It floated above the old, still Victorian city, the roofscape broken into floating planes, rather echoing the parapet walls all about, but higher".
Canterbury Progress League Archives, Christchurch City Libraries Archive
The building in 1962 at the intersection of High, Lichfield and Manchester Streets.
He also added a fin at the back of the penthouse, giving the building a striking profile in a skyline about to be forever changed by a new form of modernism.
The building was transformed from something old-fashioned to something very new.
When it was nearly finished, Beaven heard that Ager was dying. So he picked up Ager from the hospital in his small, three-wheeled bubble car, a BMW Isetta, and took him to see the building. The distinctive car had a front that completely opened up.
"We parked askew to the pavement far enough back so he could have a good look," Beaven wrote in his 2016 book.
"I opened the front of the Isetta and there, bronze panels gleaming and upper floors floating, was his and my building. I will never forget his wide smile."
Beaven's friend, artist Quentin MacFarlane, remembers another story about the bubble car. It was in a minor prang that jammed the front door.
"So passengers had no option but to exit through the canvas sunroof."
SUPPLIED
The BMW Isetta bubble car had a front door that folded back along with the steering wheel. Beaven's Isetta was gun metal grey.
MacFarlane remembers Beaven as "a big man in every aspect".
"Boris Johnson is like Peter in many ways.... the sort that has his pants held up by the old school tie and unruly hair," he said.
The spectacular penthouse atop the Manchester St building became Beaven's office once it was completed in 1960. He got a discount because the building manager said his plaque could not be seen from the street.
MacFarlane said the new building stood out in 1960s Christchurch.
"To visit the penthouse was to find a really fresh open space with plenty of light," he said.
"The green of the outside and the bronze made it ... a standout building in a city of grey cast concrete.
"His work floated cheerfully."
Joseph Johnson/Stuff
The view south from the balcony.
Beaven's daughter, Sophie Jolliffe, also remembers the penthouse as a cheerful place.
"He had a good time there," she said.
"It was a happy office and it was during a time when everything was going right.
"He was never happier than when he was up there viewing the scenery and planning what he would do next."
The office was open to friends and family. One friend, John Drew, slept under one of the desks.
"He was camping there. There was a booth where the cleaners put their mops. It had a big stainless steel basin and that was where he washed," says his daughter.
It was in this penthouse that Beaven designed one of his first masterpieces. The Lyttelton Tunnel control building was completed in 1961 and demolished in February 2013. The building on Manchester St helped him get the job.
Press Archives
The award-winning tunnel administration building opened in 1964 and was inspired by ships at berth.
Box 112 associate James Stringer, who is helping restore the Manchester St building, said the penthouse above the city must have influenced Beaven's work.
"You can imagine that this view would have shaped his practice in some way.
"It is a pretty inspirational space to see the buildings from a different angle. It must have had some influence on his work.
"He was surrounded by rooftops."
Rooftop flourishes would become a signature for Beaven as he developed an adventurous and exuberant form of modernism that drew on Christchurch's neo-gothic history and his architectural hero, Benjamin Mountfort - designer of parts of the Christ Church Cathedral, sections of the Arts Centre and the Canterbury Museum.
Beaven designed two new buildings on the same city block as that first building - an office building in 1972 and the Holiday Inn in 1988. The flooded ruins of the Holiday Inn can now be seen from the windows of 159 Manchester St.
Joseph Johnson/Stuff
The top floor affords an excellent view of the flooded foundations of the former Holiday Inn building at the junction of High and Cashel Sts.
He completed the Manchester Unity building on the corner of Manchester and Worcester St in 1967, the Chateau on the Park in 1973 and the swimming hall at QEII Park that same year.
David Hallett
The Holiday Inn, pictured here in 2003, had a roofline typical of Beaven's architectural style.
It was a career that made a definite mark on the city and was launched from that penthouse eyrie high above Manchester St.
By February 2011, Beaven was 85 years old and his practice was based in the Provincial Chambers, a Mountfort building completed in 1865.
Stacy Squires
Beaven at the drawing board in his Provincial Council Chambers office in March 2010.
When the earthquake struck on February 22, 2011, Beaven was at his desk, but managed to get out of the damaged heritage building unscathed.
Beaven said the only silver lining to this traumatic day was that he emerged from the Provincial Chambers covered in what he called "Mountfort dust". But the earthquake was a "shattering" experience for him.
He would cycle around the city and witness the destruction first-hand. The city was his muse and now it was being pulled down around him - along with much of his built legacy.
Dean Kozanic
The Holiday Inn on Cashel St being demolished in November 2012. The building was designed as offices and later became a hotel.
"The buildings were corpses to him," his daughter said.
"Not just his buildings, but everything. It was too upsetting for him. He was deeply upset by it all."
"He couldn't be there anymore. It was right that he left. What would he have done?"
supplied
The Manchester Unity Building on Manchester St being demolished in September 2011. The building was one of Beaven's biggest projects in the city.
He moved to Blenheim in October 2011. A few days before the move he was diagnosed with mesothelioma, a terminal cancer caused by asbestos.
In February 2012, he told a journalist why he moved away.
"Christchurch is pretty much hell for me now, as someone who's spent 60 years in architecture and history. That's all gone now.
"I've lost all my background really."
David Hallett
The Lyttelton tunnel control building just before demolition in 2014.
He elaborated on his sense of loss in March 2012.
"I feel shattered really. It is just a huge, shattering loss, " he said.
"I just feel profoundly sad at what has happened. We lost the inner city, which was our life, and we lost my office in the Provincial Chambers.
"The whole of Christchurch has been lost anyway … It is not just my buildings, it is the whole Christchurch city character. All those Victorian streets and buildings. It has been torn away from us."
He worked right up to the end, writing his book and designing a large house.
Beaven died in June 2012. He was 86.
STACY SQUIRES/STUFF
Peter Beaven on his bicycle in front of one of his apartment buildings in March 2010.
Jolliffe said witnessing all that destruction had a dreadful impact on her father.
"It might well have almost killed him."
There are now very few Beaven buildings left in Christchurch. But one still stands in the city centre, the seven-storey commercial building at 159 Manchester St.
ALDEN WILLIAMS/STUFF
The building is a lone modernist survivor in Christchurch city centre.
Developer Box 112 has purchased the building and is turning it into a new boutique hotel with a bar at the top where the public can enjoy that wraparound balcony. The building is surprisingly intact. The stairwell still has the original bannisters and light fittings and the lift dates back to the 1960s.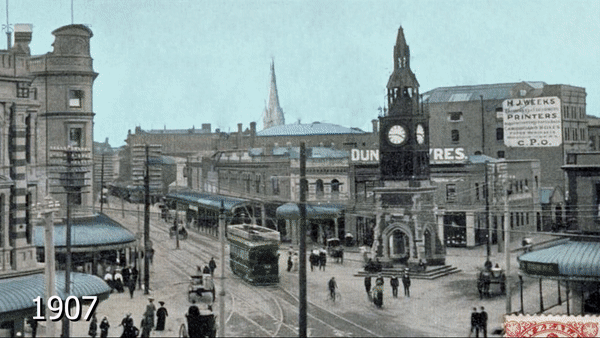 Some of the floors still have the bank vaults, complete with heavy metal doors, from its days as the Canterbury Building Society headquarters. The original olive green paint still clings to the metal window frames on the sixth floor.
Box 112 associate James Stringer said the building was unique.
"In a city of mediocrity, of concrete and glass, why would you get rid of this? That just seems short-sighted."
Joseph Johnson/Stuff
James Stringer of Box 112 on the balcony six storeys above Manchester St.
He said he was drawn to the building's distinctive looks.
"It is still here. It survived and is by one of our best architects," he said.
"To be able to take on one of Beaven's early works and keep it going is an honour and a real privilege."
Architectural historian Jessica Halliday said it was "wonderful to have at least one Beaven treasure left".
"He was one of the giants of Canterbury architecture and it is wonderful that we have something of his extensive work left in the central city."
Joseph Johnson/Stuff
The penthouse on the top floor has uninterrupted views of Christchurch and the Port Hills.
Beaven's daughter said he would be surprised that this early project was one of the last standing.
"He would think it was hilarious that this was the one that survived. He would be thrilled that someone had a good idea about it and was going to do it."
The building stands tall in its new neighbourhood as a reminder of the city's history and a celebration of one of its heroes. It will also provide a cheerful rooftop bar where people can enjoy his architecture and the views of the city he loved.
Joseph Johnson/Stuff
The view from the penthouse down the stairs at the back of the building.
Beaven's daughter says there is another reminder of her father's life in the city. The plaque from his architectural practice still stands outside the empty Provincial Chambers. But the building on Manchester St holds a special place in her family life.
"I got lost in central Christchurch about three years ago," she said.
"I was completely lost. There were no landmarks and everything was gone.
"Then I turned a corner and there was dad's building and I instantly knew where I was. I said to myself: 'Thank you, lovely building, because you saved me'.
"It was my guiding light."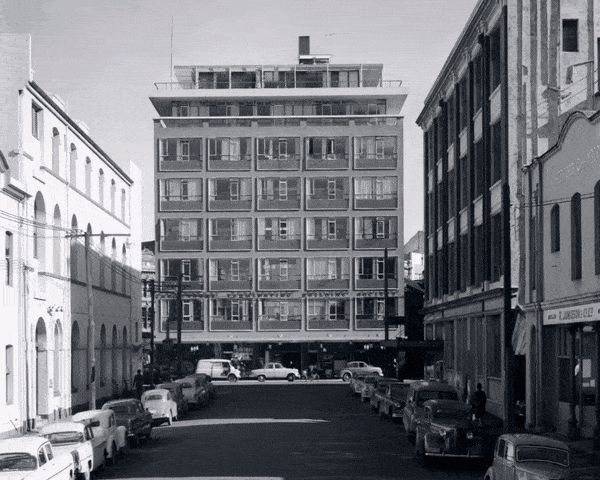 Read More